Jammu and Kashmir: In the Shadow of Imperialism

....The current turmoil in Jammu and Kashmir is no doubt a direct consequence of Pakistan's covert and overt interference in the affairs of the State. But it also has to be understood as a culmination of imperialist meddling in the State's affairs from the time of its formation in 1846. This interference continued on through the decolonization of the Indian subcontinent and the subsequent decades in which Pakistan, together with its founding organization the Muslim League, became the tools that imperialism created and nourished to do its dirty work in the subcontinent.
More
Funding Terror

One of the leading politicians of Kashmir Valley, from the rich northern orchard center of the Valley, was Abdul Gani Lone. He joined the Congress party in 1967. He later switched his allegiance to National Conference under Ghulam Mohammed Sadiq and later under Mir Qasim.  In 1977 he joined Janata Party. Finally, he founded his own party, the People's Conference (PC). Ultimately, he too, like many other opportunistic politicians before him, turned to separatist politics, and became the recipient of large funds from Pakistan for financing terror.

Of Human Rights and Human Rightists

Kuldip Nayar, journalist and India's High Commissioner to U.K. in 1990 recalls Mufti Mohammed Sayeed asking him in 1990, "Is there no Tarkunde for the Kashmiris?" [
Restoring Rights
by Kuldip Nayar, in the Hindu, November 25, 2002]. V.M. Tarkunde was a retired judge of Mumbai High Court who was also the Chairman of Citizens for Democracy, a human rights group. Mufti Sayeed was at that time the Home Minister of India in the V.P. Singh government.
More
Caught in a Vise: Displaced Kashmiris in Jammu Camps

Muthi camp is about seven kilometers from Jammu. Actually Muthi has two camps -- Muthi, Phase I and Muthi Phase II, each of which houses about 500 Kashmiri Hindu families who fled the Valley soon after terrorism struck Kashmir. ...
  More
Jammu and Kashmir: Self-Determination and Secession

Contrary to most reports in the media,  Jammu & Kashmir (J&K)  is not a state where only Kashmiri Muslims live. It is a multi-ethnic, multi-religious state with 64% Muslims, 33% Hindus, and 3% Buddhists, Sikhs, Christians and others.               
More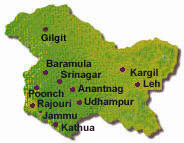 Targetting Religious Minorities

The first significant communal attack (after 1947) on Kashmir Valley's minorities took place in 1986 in Anantnag. But no lives were lost and prompt government action in the aftermath restored the confidence of the minorities in the Valley as peace was quickly restored. But 1989 was different. ...

Rigging Elections and

Sanitizing Terror

The charge of rigging of 1987 elections as the determining cause of Kashmiri 'alienation' and the beginning of terrorism in Jammu & Kashmir has been made by a much larger section of Indian liberals and has survived even after 9/11 that has brought the role of Pakistan and Saudi Arabia (and their patron, the U.S.) in spreading fundamentalist terror into international focus.